The growing world leads to the increasingly popular use of single-use convenience products. After use, such products become difficult to decompose and difficult to treat waste, which has been causing serious problems to the environment and human health. The switch to using items with environmentally friendly materials is becoming a trend today. That is also the trend that the whole society is moving towards to protect the environment and create a friendly living environment.
Continue the goal of promoting sustainable development and enhancing activities to contribute to society as well as contribute to raising the sense of responsibility to the community. Kanematsu Vietnam makes Canvas bags with the desire to contribute to the community to build an Earth free of plastic waste.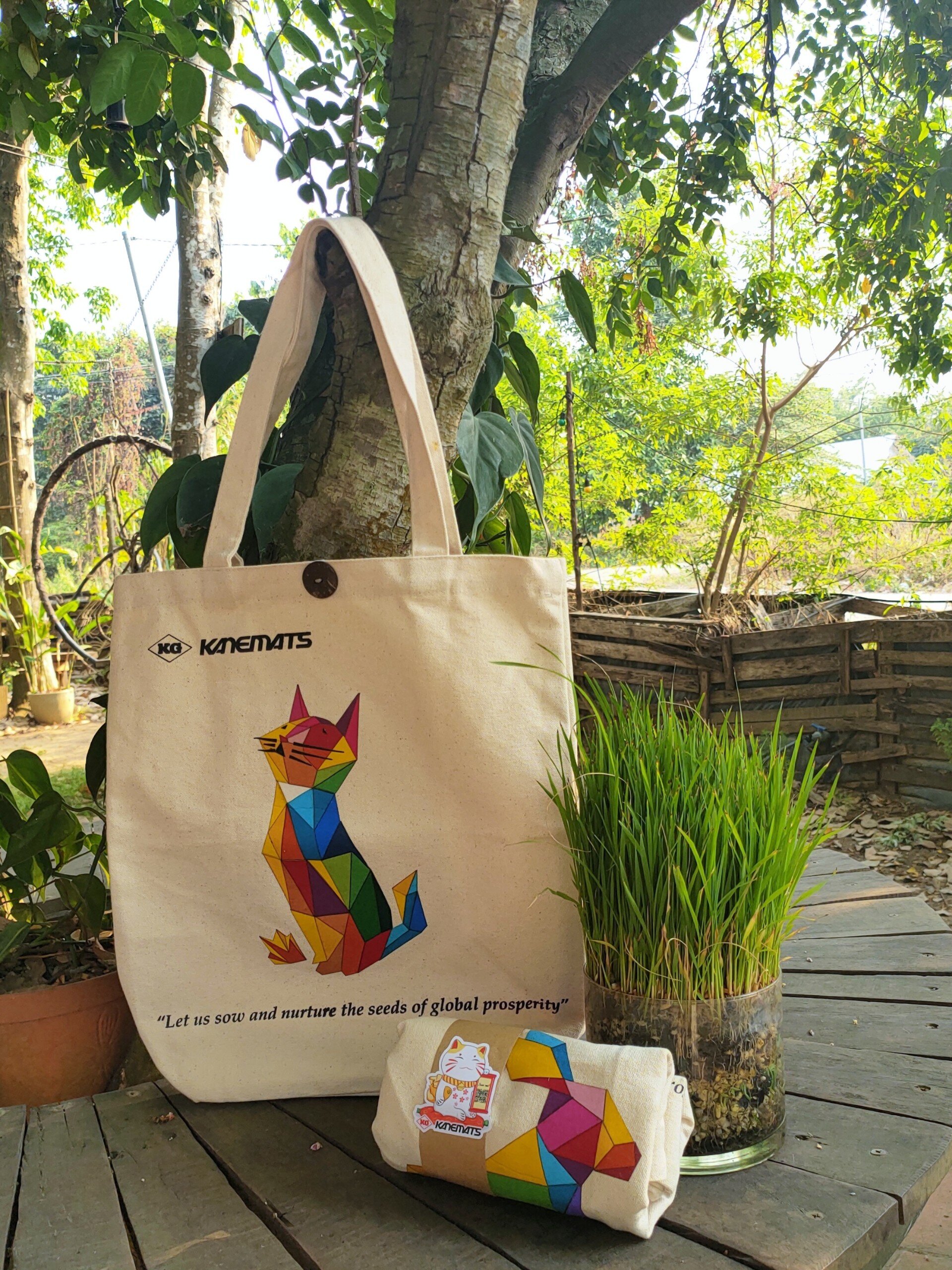 Kanematsu uses Canvas fabric, which is woven from hemp, not dyed, rustic touch that is environmentally friendly. The special feature lies in the decorative pattern which hand-pasted by the workers of the Disabled People's Association – Vun Art Cooperative at Silk Village, Van Phuc, Ha Dong, Ha Noi (https://vunart.vn ). By ingenuity, industriousness, and creativity, the workers turned silk fabric scraps seemingly worthless from tailors into vivid, colorful paintings. These products have both humanistic values and contribute to environmental protection and social meaning when Kanematsu can support their products as gifts to Kanematsu's partners and customers.
Cat and Rabbit are mascots of the year 2023, these mascots are the inspiration for the pattern on the bag. The Cat is a mascot that brings prosperity, a symbol of kindness, perseverance, and patience. The Rabbit symbolizes luck and wealth, in addition to being a symbol of ambition and radicalization in Japanese culture.
Kanematsu Corporation in general and Kanematsu Vietnam in particular always focus on social responsibility activities to be able to develop the economy in an ecological, circular and sustainable manner. Since life is colorful pieces, next to the brilliant red is pure white, next to the shimmering yellow is cool green. Each of us is a piece of destiny with different personalities, missions, flaws and is part of this life.